Original post by Arch chancellor Vehemence
Atlan, Baron Widah Xulub's private estate:
One of Widah's aides burst suddenly into his office:
"Sir! ..... Sir!
The young man is clearly upset about something, almost stumbling as he rushes into the office. Looking up from from his many communique's and state documents, it takes Widah just a spit second to notice something is very wrong. He offer the aide the cair across his desk.
"Calm down son, have a seat. Tell me what is so urgent that you must interrupt my busy schedule?"
The messenger sits down and for a few seconds seems unable to speak.
"It's the Arch Chancellor Sir, the Praetorian fleet... they're gone sir... Destroyed by the enemy! We received a distress call ony minutes ago. It's all on this crystal sir!."
Baron Widah accepts the offered datacrystal, and inserts it into his terminal. Several decryption protocols run and an image appears on the viewer. It displays the command deck of the Executor, the Arch Chancellor's flagship. It is filled with smoke, some bulkheads lie strewn across the deck. In the background flight officers are trying to put out electrical fires springing up from the electronics. More flight officers lie dead at their consoles. The transmission is garbled, several blasts interrupt the transmission altogether only to reveal more fires and death when the image returns. At the center of the chaos sits Vehemence, shouting a last order before turning to the transmission.
"All hands abandon ship! To the escape pod's! Set course to the nearest ally system and take shelter there! Lilith! Initiate auto destruct on all remaining ships, set to three minutes & initiate on my command, authorisation Vehemence alpha three seven five, enable!"
Alarms start sounding on the deck, the remaining officers rush towards the nearest pods. Lilith's cool voice confirms the order.
"Your attention please, auto-destruct initiated, you now have T minus three minutes to reach minimum safe distance..."
"Baron Widah, our attack on Scorpius II had failed, Fleet admiral Yann had a fleet ready for us with 47 hades class ships. Our attack force has been decimated, we..."
Another loud bang and the sound of grinding metal and tearing bulkheads inerrupts the message.
"... lost 44 Athena & 38 poseidon, they trapped us, retreat was impossible... ...would have... ... strength... ...I... ...shuttle... ... arrive... ...to atlan... ....hours..."
The transmission ends there, breaking up into galactic noise.

Dick Steel




Posts

: 105


Join date

: 2010-01-15


Age

: 35


Location

: Belgium



Original post by Count Widah Xulub

Widah's eyes widen in horror as the grizzly scene unfolds before him on the holo projector. "Mercy of the Father!" He frantically presses buttons on his desk computer. In moments a holo flickers to life of a square-faced older mustached man in a naval uniform.

"Ah Baron, I was about to call on you. You're no doubt wondering about the escape pods we've been tracking with Alliance transponders. It appears they've gotten away cleanly--no enemy pursuit; however, sensors are detecting only minimal power. It appears they've come a long way. They've got the correct vectors, but they'll be coming in hot, sir. We've deployed tractors into orbit, but they'll only be able to slow them down."

"Thank you admiral. What's their ETA?"

"Approximately forty-three minutes 'till planet-fall, Baron. Rescue teams are ready to scramble."

"Arch Chancellor Vehemence is alive aboard one of those pods! This must be handled with the utmost care. I will lead the operation personally. Widah out." The admiral gives a curt bow before disappearing. "Oco! Ready the shuttle! We haven't a moment to lose!"

****

A squad of assault craft fly dangerously low over barren and treacherous terrain. Jagged mountains of red rock thrust up into the darkening sky bounded by deep rifts and dark canyons. The sensor operator calls from the back of the cockpit,"other squads report all other pods are accounted for, Baron. Still no sign of the Arch Chancellor among the living or the dead."

"This is no place to be after dark," muses Widah. "Have you got anything yet, Ensign?"

"Nothing yet, sir"

"Damn! We're running out of time. Intuition can help here where machines might fail," Widah thinks to himself. He begins an internal exercise to empty the conscious mind with practiced ease. The anxiety of possibly fumbling the rescue of the Arch Chancellor proves difficult, but a minute later his training wins out. Once the slate of his conscious mind is wiped clean, an image gradually takes form in his mind's eye. "Captain. We have a new heading. Take us beyond that ridge there," Widah points starboard to a looming ridge-line.

"But we haven't finished this sweep, sir." The Baron's look persuades him to shut up and follow orders. "Alpha squad; on me," barks the Captain, and the ship banks right towards the ridge as the sun creeps its way behind the horizon.

Moments later an alarm flashes and beeps on the Ensign's sensor panel. "We have bio-sign, sir!," he exclaims. The Ensign makes adjustments narrowing the beam to get a clearer reading. "It's definitely them, but there are other bio-signs and energy discharges like small arms fire. Some of the Night Hunters out early is my guess."

The Captain punches the accelerator without needing to be told. In the twilight the ships descend into a long steep valley. Blaster fire lights up the end of the shadowed vale. "Have the others give them some support and bring us down," orders Widah. Comm chatter fills the cockpit, and in moments the other craft acquire their targets and open fire. Flashes of light reveal monstrous quadrupeds encircling the survivors taking cover amidst the wreckage of the escape pod. Those Hunters that are not killed, flee into the shadows. The Baron's craft's legs unfold as it alights on the rocky surface, and Widah leaps from its open side-door. Before him stands the Arch Chancellor, blaster in hand, and the ragged survivors of his crew catch their breath and compose themselves relief visible on their flushed faces. Vehemence smiles and says,"your timing is impeccable, Baron, but I must admit, my confidence in you was beginning to waver."

"Not exactly the circumstances in which I expected to welcome you on your first visit to Atlan, but Father be praised, you're alive! A couple of the pods didn't survive the landing. How did you manage it?"

"I squeezed enough power out of her to soften the landing. The impact-foam did the rest. You never told me you had such wonderful wildlife, Widah," laughed the Arch Chancellor. "I sent some of the men up the ridge to plant a signal-beacon. They didn't get far before they were chased back here by these magnificent beasts." He points his pistol at the exploded remains of a six-foot tall sleek quadruped predator all muscles, teath, and claw. "I must say, this new body was a Godssend. Use everything life gives you, Widah; seize every opportunity," and with that he holsters his blaster and follows Widah and the other survivors onto the rescue craft.

Dick Steel




Posts

: 105


Join date

: 2010-01-15


Age

: 35


Location

: Belgium



The Arch Chancellor is silent the whole trip back to the city, sitting quietly in meditation. For the first time Widah has a chance to complete take in the Arch Chancellors figure and posture. Whatever procedure Gehenna performed on the old man, there was no sign left of the old withered man he first met. If it had been simple surgery there would at least be scars of some kind. Instead the old man looked as if he was in his early thirties, fit and healty. He wasn't carrying much gear, just his black VnV Nation uniform and a simple cloak. Both scorched, ripped and staind with bloodmarks. Probably from the attack on the Executor..." Widah thought. He noticed a large gap in the uniform at his right side, accompanied with a large bloodstain. Skin could be seen underneath, but there was no wound... not even a scratch. "A tear like that must have been made by some large flying shrapnel or something, but then there would have been a wound... Widah's master had told him of ancient warriors who possessed the gift he had himself and could use it to heal themselves or even others. His training had allowed him to control his pain with his gift, or even accellerate the body's natural healing. But to close an open wound like the one this must have been... Widah started wondering who Vehemence really was, and come to think of it... how old was he really? For all goodness sake he could have had that mystery procedure several times.

His eyes drifted away from the imaginary wound, and a second odd thing struck his eye, next to the blaster was a hilt not unlike his own lightblade. Only longer and made of some crystalline material he had never seen before. That was it. Widah just had to know. He closed his eyes and concentrated, feeling the life presence of Vehemence. Suddenly, a chill ran down his spine, as he realized that he was sensing nothing . He could feel the pilot, and the officers in the back, but Vehemence had no presence at all.

A thud startled him, bringing him out of his thoughts. They had arrived at Atlan City. The Arch Chancellor opened his eyes and got up, following Widah out of the shuttle.

Outside Vehemence stopped briefly. And looked Widah straight in the eyes, a deep soul piercing glare. Several seconds passed before he finally spoke, he smiled and put his hand on Xulub's shoulder.

"Thank you my friend, once again you have proven your worth and your loyalty to me and VnV Nation. I'm glad you were not there to witness the battle; it was a slaughter. We never stood a chance against that fleet..."

As they walked into the city, Vehemence continued on the finer points of the battle, how the third attack wing sacrificed themselves with kamikaze tactics to safeguard the Executor, and how several boarding parties breached the hull and even reached the command deck. Widah noticed that Vehemence was fingering the hilt at his belt as he recounted the story.

"So you're wondering about this? I suppose you've deseverd more then one prize today, if you don't mind fighting an old man."

Vehemence laughed at his own remark

"But first we have other things to attend to. By now the news of the war's end should have reached you. If only those talks could have proceeded swifter, we would not have lost those men. At least they gave there lives experiencing and savouring every second in exhileration. There's not a better way to die then fighting. Beats dying of old age, shriveling until you are but an empty shell."

They reached the city hall, and turned several corridors until Widah showed The Arch Chancellor in to a comfortable salon, one of the many he used for receiving diplomatic envoys. As Vehemence entered, Widah saw his master standing at the end of the corridor, and he did not need his senses to tell that his mentor disapproved of his company. Not wanting to break protocol, he entered after the Arch Chancellor and called for the servants.

"Baron Widah Xulub, when I first sensed you I knew that there was something special about you. Even so you have continuously performed above expectations, and now I even owe you my life."

Something told Widah that the last sentence was not entirey true.

"You have grown stronger since last me met, and I forsee a great future for you. In recognition of your excellent performance, I shall let it be know that you are now no longer Baron Xulub. But a Count in the Nation of VnV. And as a gift, you are now the owner of the northern estate on the palace grounds in Thera. I've come to rely on you often, and would like to keep you close."

The idea of living on the Nations capitol, in the palace grounds no less had never occurred to widah, but he was almost too distracted to respond in time: Why did his mentor dislike the Arch Chancellor? His master had never diapproved of any of his friends before....
"...eh Widah?" Vehemence smiled as he waited patiently for Widah's focus to return to the conversation.

"Huh? Oh. Of course, your Eminence. Sorry, I have much to think on. Use this terminal here should you need anything. You'll want fresh clothes I imagine. Those look a little drafty. I will return when I've seen to your men and the preparation of quarters for your stay." With a bow of the head, he leaves the Arch Chancellor.

Lost in thought Widah threads his way through the corridors of the Embassy. His mentor, Master Shifak, is waiting for him as he turns a corner.

"A word with you, Widah." says the Blademaster gravely.

"Of course. Walk with me."

"So that is the Arch Chancellor I saw you with, is it? If you haven't forgotten everything I've taught you, you'll have an idea why I seem concerned."

"Yes. I sense none of the usual emanations of spirit from him. Strange, to say the least, considering his assumed prowess. What do you know, Shifak?"

"Your Arch Chancellor is not exactly human. I haven't encountered one of their kind in a long time, and, let me tell you, it was far from pleasant. They are a very long-lived race with a proclivity for mental illness. History does not remember their exploits kindly. No one knows for certain why their energy seems masked, but you can be sure they are very dangerous. Even I was nearly bested in combat by one of their anomalous race. They are incredibly difficult to kill. I would urge you to tread very cautiously indeed, my duke."

Widah stopped to consider his master's warning. He put his hand on Shifak's shoulder, "Duly noted, Master. Your concern is appreciated, and ever-wise is your counsel. But this one has earned my--our friendship however unsettling he might seem. Though at times harsh and ill-tempered, I have known him to act with kindness and magnanimity. Even their strange race must have souls, right? Let us hold fast to the ideal--the spark of the divine--so that it might be encouraged to shine a bit brighter. Isn't that what you've always taught?"

"You are coming into your own, Widah. There's little more I can teach you. You are right; of course, we mustn't generalize. Expect the unexpected. Follow your intuition as always, but remember that there are some truly evil entities in this universe for whom death is their only redemption," admonishes the old Blademaster. He clasps his student's forearm in farewell, and walks the opposite way down the corridor.

A week later the door to the guest quarters in the palace of House Xulub on the outskirts of the capital of Atlan opens upwards with a swoosh, and in steps Vehemence's Chief Ambassador and host. The Arch Chancellor looks up from the datapad on which he had been perusing the latest news from home, "ah Widah. Good morning to you. Have you more diversions planned for us today? I enjoyed our little hunting expedition immensely, but, from what I read, our people would be served best by our returning to Thera with all possible dispatch."

"Well then you'll be pleased to hear preparations for the move have been completed, and the shuttle awaits to take us to the rendezvous with our escort. Your men are already on their way to the hangar."

"Excellent! Well since I've nothing but the clothes you've given me and this," he pats the curious weapon on the table in front of him that Widah has yet to see drawn, "let's not waste another moment!" Vehemence chuckles as notices Widah's eyes linger on the weapon. "Don't worry, my friend. There'll be time for that back on Thera. Believe it or not, you're Blademaster, Shifak, is of some renown where I come from, and I'm itching to see if you're as good with your blade as you are with a lightpen. Wouldn't that be a boon to us, eh?" A barely discernible widening of the eyes confirms for the Arch Chancellor that he hit the mark. Weapon belt buckled around his waist he motions toward the door, "after you."

Widah Xulub

Arch Chancellor





Posts

: 979


Join date

: 2010-01-14


Age

: 43


Location

: Castle Ek Balam, the seat of power of House Xulub



Incoming file transfer:
Source: Atlan Monastery
Sender: Master Shifan
Widah,
Since you have befriended the Arch Chancellor, I have done some research in the old archives of our monastery. As you know some of the documents are thousands of years old, some even are written on canvas sheets, from ancient times when there were no datapads. I retrieved one document of particular interest. It concerns the fall of the Ymyrrian Empire, almost seven thousand cycles ago. As this "arch chancellor" is in fact an Ymyrrian, probably one of the last remaining, I thought you should know how their empire came to fall. The document is transcribed on canvas by Tabjin the Knower, one of my far forefathers. It is dated a few hunderd years after the fall of Ymyr, and describes in detail how it's last emperor killed the entire court and brought about the Empire's demise. Of particular interest is the small icon artwork included in the document. I had it scanned and enhanced.
I wish you well on your travels,
Shifak
The end of the ten thousand year veil of shadow,
By Tabjin the knower,
It is but a few centuries past, but he people of Atlan remember well. As will many other worlds in this galaxy. The oppression of Ymyr, the empire of darkness, how it choked the very life out of the thousand worlds it ruled. If it were not for the actions of its last sorceror-king, Jerrek of Melniboné, we would all still suffer the ill fate of our forefathers. From the tales told and the research I have done, I can claim the following transcription as historically correct. May these dark times never be forgotten.
Jerrek of Melniboné the last ruler of the dreaming city Imyr was born an albino. Though the Ymyrians have a natural affinity for sorcery and physical superiority over the other races in the galaxy. The last ruler is a sickly man and requires large amounts of sorceress drugs to maintain his strength and life. He is the 428th ruler in direct line of descent from the first sorcerer emperor of Ymyr. Due to his weakened condition he has delved into the secrets of many sorceress books and the study and practice of herb lore to sustain himself. Through this process of self enlightenment he has developed a self loathing for the traditions of his empire, and his inability to fit in to the role of the traditional Melniboné-family emperor. I believe he also harbored an inner desire to perhaps sway his fellow Melniboné's from some of their more unwholesome practices. Because of these opinions, his subjects find his motives to be almost unfathomable. Their opinion being that the Ymyr Empire always should remain as it is. They have always ruled the galaxy, and any tactic or pleasure they desire is to be sought out and used. Morality is something that concerns what they consider lesser beings but does not have any bearing, or add weight to any decision they may make. Jerrek also sees that the past glory of Melniboné is fading, complacency and stagnation have set into his culture and empire. No longer do the golden battle barges leave the homeworld in order to raid, plunder, and bring back slaves. No longer do they attempt to increase the number of systems under Ymyrian domination, and demand tribute from lesser beings. Even so, with his opinions ignored as the curiocities of a sick emperor. Jerek is the ruler of the dreaming city and keeper of the ruby throne. This was not to change, not until the day he met Cymoril.
Cymoril, a young lady from one of the subject worlds of Ymyr, was originally captured and brought to the dreaming city as a slave. It is said that from the first moment Jerek laid eyes upon her, he could think of nothing else but her. She became a familiar sight around the sorceror king much to the dislike of the other Ymyrian nobles. A slave girl was to be kept as a toy at morst. But to dine at the same table as the Emperor? A lesser being no less! Frearing a weakening of the noble line several nobles conspired to have her killed, they had no claim to the throne and were sure that once this corrupting influence was removed, the sorceror king would return to his normal, though eccentric, ways.
Ans so it came to pass that on a fateful morning, Jerreck found his beloved Cymoril dead, poisoned, sprawled on the floor of his throneroom. It is said a blind rage, a fury overtook Jerrek. Some claim that Arioch, the Duke of Hell, himself possessed Jerecks frail body and drove him to madness. It is unknown what exactly transpired, as there are no witnesses to the events that took place therafter. The only thing we know for sure is that Jerrek ordered the gates of the palace closed, and killed every single Ymyrrian inside. The tales the servants told afterwards describe a bloodbath, a massacre of epic proportions.
Jerrek was never to be seen again, and with the noble lines of Ymyr almost completely wiped out, the strengt of the empire crumbled until it finally lost its grasp on the galaxy giving the many worlds within back their much needed freedom. Until this very day, the remaining Ymyrians are hunted by those they opressed. I must assume Jerreck, the last sorceror-king, has also fallen to the wrath of the free people. But until this very day, not a single one has claimed to have killed or even seen him.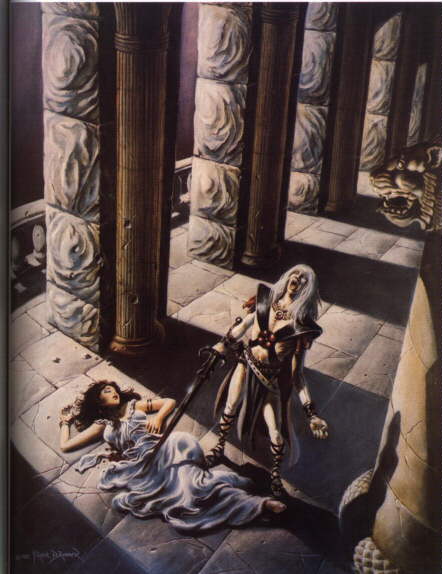 (I'd like to note that I borrowed many elements from different stories to write this, most is based on Michael Moorcock Eternal warrior fantasy novel series, used without authorisation)

_________________
Sincerely,
Chancellor Vehemence.
>>>\/<<<

"I, while the gods laugh, the world's vortex am;
Maelstrom of passions in that hidden sea
Whose waves of all-time lap the coasts of me;
And in small compass the dark waters cram."

"Farewell, friend. I was a thousand times more evil than thou!"
Widah and Vehemence settle in for the long voyage aboard the ambassador's faster-than-light shuttle after clearing the gravity well of Widah's homeworld of Atlan. Just before making their jump a datapack is beamed to the ship on Widah's private channel.

It's from Master Shifak, and contains intriguing information about the Arch Chancellor's genealogy dredged up from some dusty corner of their monastery's labyrinthine library. "Fascinating stuff. The Universe abounds with mystery. I can hardly keep this to myself," thinks Widah as he peruses the file which even includes some ancient iconography.

The two while away the time on the long voyage in the mess with a handful of officers that survived the demise of the Praetorian Fleet sharing tales of their exploits and follies and playing games of strategy. Ever curious, Widah keeps a discreet eye on the Arch Chancellor trying to shed light on the enigma that is Vehemence the Ymyrrian. Widah notices that while Vehemence keeps the obligatory distance between himself and his officers, Widah's trained eye catches carefully masked signs that the Arch Chancellor cares genuinely for his officers--those who have proven their loyalty and worth, Widah guesses. Still his soul bears many deep scars. It occurs to Widah that it might be a blessing to be born into a more short-lived race.

Widah finds a chance to broach the subject of Vehemence's ancestry while losing to the Arch Chancellor at a holographic game of Stones after the others have retired to their cabins. "I considered myself a decent player until now, but I should expect as much from a man centuries my senior," Widah comments casually. The Arch Chancellor's brows rise slightly at this remark as he programs his next move. A major piece moves to close the trap on Widah's offense.

"Once I was recognized, I knew you'd bring it up eventually being the inquisitive sort, and to tell you the truth, I find it refreshing to talk about it from time to time. So what have you learned? That my race once ruled your galaxy with an adamantine fist--Ymyrrians the Great Oppressors?" asks Vehemence in his gravelly voice. "Do you wonder if perhaps you've misplaced your loyalty?" Widah is somewhat taken aback by the Arch Chancellor's pointed questions, but the Ambassador is quick to collect himself.

"You're an astute old file if I may say so, V," answered Widah leaning back on the cushions of his seat and drinking deeply of the glass of wine in his hand. "Truth be told I was a bit worried at first; however, I prefer to let actions speak for themselves, and you've given me no cause to regret my decision."

"Good. Ymyr's black reputation is why I don't openly discuss my lineage. Let them wonder. I have no lack of enemies already. Better not to add more fools to the list seeking to rid the Universe of my hated race once and for all. This is one reason I've taken to building my empire all the way in the Forty-first where none have ever heard of Ymyr. Your move." The Arch Chancellor drains his own glass.

"Bah! I'm undone," laments Widah while surveying the board. He buys himself some time to think by fetching the bottle and refilling their glasses, but as he is pouring an explosion rocks the ship heaving wine, glass, and bodies as alarms sound and flash. "What the frack was that?!" yells Widah as he regains his footing. He vaults a couch and runs forward to the cockpit. Not long afterward the other officers emerge from their cabins pulling on boots and buckling clothing.

The cockpit is noisy with alarms. "Sir we've tripped a hyperspace mine! It's an ambush! Raiders are closing with weapons armed!" exclaims the pilot fighting to control the ship's attitude while the co-pilot's hands are at work restoring systems to normal.

"How many? Where is our escort?"

The Communications officer chatters away behind Widah, "our cruisers are accounted for, but most of the fighters were disabled by the mine blasts, sir."

"Scans show nearly fifty light vessels and a large heavily-armed transport. We're out-numbered, but we have the technological advantage," reports the Sensor Op. "Weapon discharge detected!"

"Shields! Calculate a new jump! I don't care where! We can get back on course once we're away. Alert the others!" commands Widah.

Flashes erupt from the dim forms of the raider's ships still too far away to make out clearly, and an instant later energy blasts collide with the shuttle. A few reach the ship before the shields are fully powered. The ship is rocked again sparking another series of alarms amidst the fervent jabber of the crew.

"What is amiss, Count," the Arch Chancellor calmly asks stepping into the cockpit. "Hmm. Pirates is it?" he surmises as he looks out the transparent steel windows.

The ftl cruisers maneuver to form a protective sphere around the shuttle shielding it from the hail of enemy laser fire. The pirate fighters swarm the less maneuverable cruisers aiming to overwhelm them with their superior numbers while the heavy transport lumbers into position to offer support with its heavier weapons. Outside the expected range a capital ship-sized blast lights up the void grazing the lead cruiser. "Whoa!" everyone breathes at once.

"They won't last long against that," the pilot observes. "No wonder it's so slow. It's packing a frackin' plasma cannon!"

"We need those calcs, Navigator!" barks Widah.

"Almost there, sir!"

Another blinding flash fills their view as the heavy transport fires again.

"That was too close." To the Comm officer, "have the cruisers makes us a hole in the top of the screen which we'll punch through as soon as we are ready to jump."

"Aye aye, sir."

"We've got an exit," the Sensor Op calls as another blast clips the same cruiser. Explosions ripping across her hull say her deflectors were overcome, and she begins to list.

"Get us the frack out of here!"

"Jump plotted!"

"Helm, now!"

"Hold on, sirs!" The pilot yanks on the stick, and the shuttle climbs faster than the inertial dampeners can compensate for. Widah and the Arch Chancellor cling to the backs of the crew's seats barely keeping their balance as the shuttle shoots straight up towards a narrow gap between the screening cruisers and the swarm of enemy fighters. Given their signal the cruisers turn their bows to follow. The shuttle jumps right as she clears the defensive screen--a white flash streaking off into the darkness. In the same instant, several raiders are caught in the wake, and their fiery remains tumble in all directions.

"We're away, sir. We lost the Edznab, but the others made the jump despite some heavy damage. They assure us the men of the Edznab fought to the very end."

"Good show lads. We'll mourn properly for our brothers later."

They are all surprised by the sound of laughter from the back of the cockpit, and turn to see the Arch Chancellor with a satisfied grin on his face. "One never wants for entertainment in your company, eh Widah? Ha hah!" The crew becomes real interested in the screens and interfaces of their stations all of the sudden wondering about their alliance leader's apparent lack of a healthy sense of self-preservation.

Widah Xulub

Arch Chancellor





Posts

: 979


Join date

: 2010-01-14


Age

: 43


Location

: Castle Ek Balam, the seat of power of House Xulub




---
Permissions in this forum:
You
cannot
reply to topics in this forum